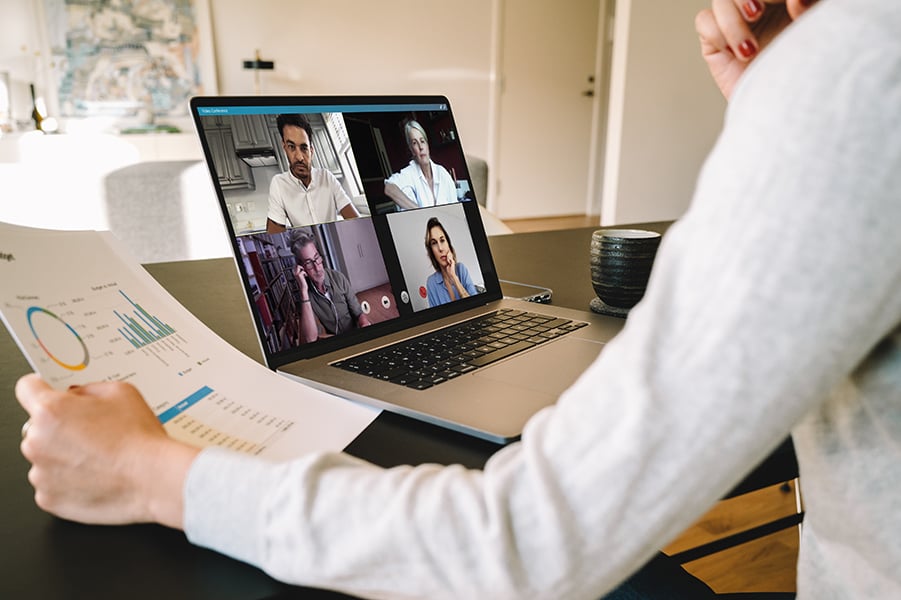 In March 2020, Gartner found that only 12 percent of companies were highly prepared for the pandemic, while more than half considered themselves to be only somewhat prepared. Additionally, research released in April indicated that most plans for continuity in the workplace didn't include preparations for the sudden shift to large-scale remote working that has been seen in 2020 worldwide.
It is now clear that business continuity plans must prepare and enable organisations to continue operating no matter where their employees are located. Resilience must be built into the infrastructure of the company and extend to cover all possible workplaces - the office, factory, home or another location. And organisations that embrace hybrid workforces now, investing in a long-term hybrid workplace strategy, are uniquely placed to improve their business continuity and resilience.
How hybrid workplaces enable continuity in the workplace
Hybrid workplaces increase business continuity and resilience in three key ways: enabling decentralised work, equipping employees with the tools to respond well to change, and creating a business model that is rapidly scalable.
1. Work anywhere, anytime
One of the most obvious ways that hybrid workplaces support business continuity is by enabling employees to work anywhere they choose, at any time of the day. If your employees already have the equipment and infrastructure they need to work from home on short notice, as they would in a hybrid work environment, disruptions to your business operations will be minimised.
2. Agile, flexible culture
Hybrid working encourages flexibility in employees, giving them more freedom to choose where they work based on their current needs. Agility is thus built into the culture of the organisation as hybrid work environments are embraced, driving digital transformation and a nimble approach to business operations. A flexible and agile culture such as this is better equipped to respond well to a crisis, increasing business resilience and continuity in the workplace.
3. Scalability
There's no doubt that in the event of a disaster, the size of your business operations can be quickly and dramatically affected. Whether you need to scale up or down though, a hybrid work environment supports rapid change while minimising expense or disruption. Cloud solutions, the backbone of hybrid workspaces, enable IT to easily add or remove new users and tools without any on-site technical set-up needed. New employees can be onboarded remotely and continue to work from home indefinitely, removing the need to invest in additional office space.
How to optimise your hybrid workplace for business continuity and resilience
While many organisations shifted to a hybrid working model virtually overnight, it's vital that businesses implement strategic and long-term hybrid workplace solutions to take advantage of all the available benefits.
Here are some tools you need to optimise your hybrid workplace for resilience and business continuity.
Content services
Your organisation needs software to manage how your employees edit, share and collaborate on files. Document management systems or Enterprise Content Management provide efficient solutions for file management, as well as the opportunity to automate and streamline processes.
Cloud software solutions
Cloud software solutions are uniquely designed for accessibility and scalability, both key to business continuity and resilience. When choosing software for your hybrid workforce tech stack, prioritise cloud solutions for the most flexible hybrid work environment.
Cloud-enabled, secure home printers
While it's common to consider the security and connectivity of laptops, this is also an important issue for printers. A cloud-enabled device will allow your IT team to rapidly set up and manage the printer remotely. Additionally, choosing a specialised printer with adequate security features is critical to ensuring that your data remains safe and your business resilient to cyber attacks.
Automation
Automation has many applications, some of which are directly beneficial to business continuity and resilience, such as automated disaster recovery. However, organisations that embrace automation more generally to streamline their processes will also see continuity and resilience benefits, such as increased agility to respond quickly to adverse situations and increased efficiency allowing greater output from fewer resources.
Building a resilient and productive hybrid work environment requires the right hardware, software and processes. Download our Guide to Hybrid Workplace Strategy for a step-by-step strategy for implementing an effective hybrid work model that equips your employees to work anywhere, any time.