The covid-19 pandemic has expedited the trend towards working from home and hybrid working—with mixed results on productivity.
In a Kyocera Document Solution sponsored survey conducted by the Economist Intelligence Unit (EIU) similar proportions of respondents reported increased (39%) or decreased (32.6%) productivity "since the pandemic forced remote working", while the remainder reported no change. The survey included responses from more than 360 senior executives in North America, Europe and the Asia-Pacific.
That a significant share of companies—but far from a majority—have reported an increase in productivity as a result of a shift to working from home suggests an opportunity for the rest to catch up and harness the same benefits. But what factors determine whether a business will be more or less productive when adopting remote work?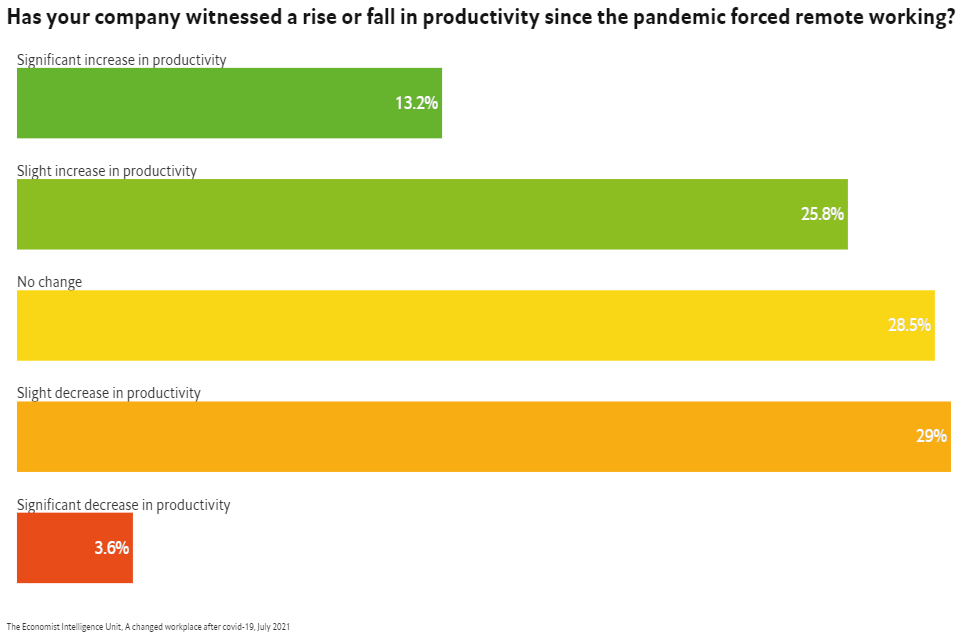 Technological solutions for increased WFH productivity
"There is no one magic solution for getting remote and hybrid working right," says Oscar Sanchez, president and CEO of Kyocera Document Solutions America. However, organisations that can take a more holistic approach to optimising the way they collect and work with information "will reap the rewards that these new ways of working offer."
Exploring multiple approaches can help in finding the right productivity solutions. When Kyocera partners with organisations to identify and solve business challenges, it has found its wide product portfolio, including A4 printing devices and software solutions, creates opportunities. "At Kyocera, we take pride in becoming a partner rather than a provider of solutions, based on our vision of enabling customers to turn information into knowledge and put that knowledge to work," says Mr Sanchez. "Being able to collaborate, defining clear workflow processes, and having the right technology to do so has been the foundation for success."
Enthusiasm for technology among an organisation's staff helps determine the level of staff productivity when working from home or in a hybrid work environment. In the EIU survey, 64.6% of executives who reported that employees were "extremely supportive" of using digital tools also said their organisation's productivity had increased with remote work. At the other end of the spectrum, 77.1% of executives in firms whose workers were not supportive of digital tools reported lower productivity.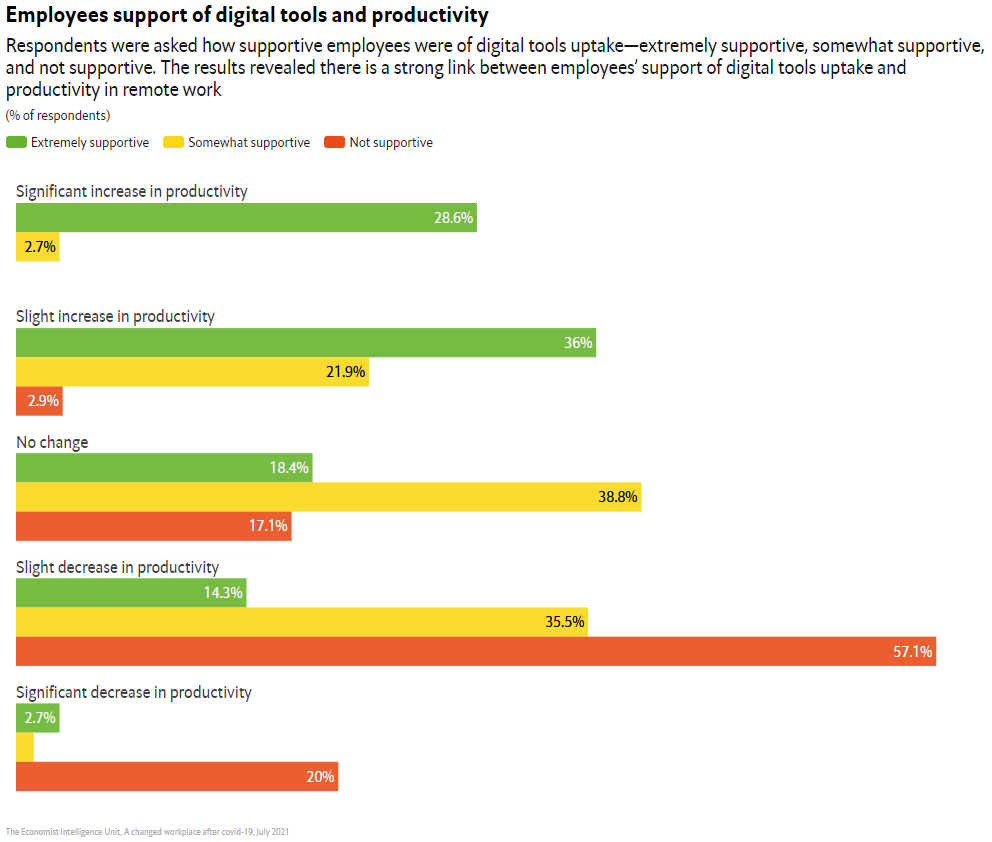 The level of investment a business makes in technology also correlates with their productivity during the pandemic. In the EIU survey, 62% of executives whose organisations had spent consistently on information security before the pandemic reported increased productivity during the crisis. "Those who were best prepared or acted fastest to implement technology have enjoyed the greatest productivity," says Mr Sanchez.
Giving people the right tools for collaboration
Having the right tools to enable remote and hybrid work is vital. In the survey, 38.7% of executives whose organisations were less productive when working remotely said their people didn't have access to the tools for information management that are used in the office. That is a likely contributor to the number one reason cited for lower productivity: a full 70.6% of executives in firms whose productivity had declined said this was due to difficulty in remote collaboration.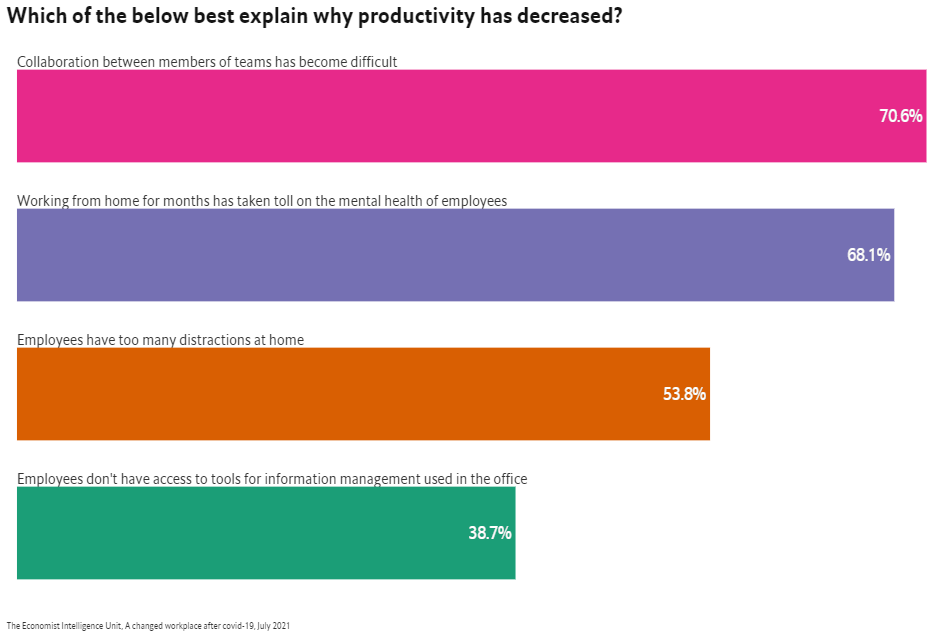 Embracing location independence helps build resolve to put tools for collaboration in place. "We have emphasised that we are one company with one culture, and that should not be influenced by where you work," says Mr Sanchez. "Working from home is not just about having a laptop and good wi-fi. Remote workers need to be able to run any company workflow or business process as effectively as they do in their office, and that is a crucial part of the success of any work-from-home strategy."
In its work with customers, Kyocera has found that home service and remote management of printing, scanning and copying devices has been a crucial need during the pandemic. An increasing number of organisations Kyocera works with have turned to Kyocera's subscription-based managed print services to support their needs. "This gets document-based workflows under control while reducing waste and the overall amount companies spend on printing," says Mr Sanchez.
The human side of remote work: Happiness brings efficiency
Remote and hybrid work can put staff under personal strain. Among the top reasons given for decreased productivity, 68.1% of executives said working from home had taken a toll on employees' mental health, while 53.8% described distractions at home as an issue for workers. This has been accelerated by the impact of the pandemic. According to research by Willis Towers Watson, an insurance brokerage and consultancy, one-third of employers in the Asia-Pacific region believe covid-19 will have a moderate to large negative impact on employee wellbeing.
In these conditions, businesses must marry the need to drive efficiencies with an understanding of employees' personal circumstances. Kyocera endeavours to understand the human dimension of remote work when it engages with clients that want to improve their productivity. "We're lucky to have an increasingly diverse workforce," says Mr Sanchez. "And this diversity did bring about a variety of challenges, because we all have different personal situations. But we faced these through team unity and open communication," says Mr Sanchez.
To ensure that it prioritised employee wellbeing during the pandemic, Kyocera prepared a remote-working guide to share with employees, which highlighted personal and work habits that foster well-being. "This contained basic advice such as making sure you eat healthily or have the right lighting," says Mr Sanchez, along with "more detailed technological guidance to help get the most out of the platforms we are using." The geographically distributed nature of its workforce also informed efforts to ensure productivity. "We were prepared to work together from a distance," says the chief executive. "We aimed to ensure that all employees could work as, if not more, productively at home."
With the right technology and understanding of employee well-being, organisations can be surprised at the results of remote work. Kyocera has been among them. "I thought there would be too many distractions and difficulties in adapting the working routines I had," says Mr Sanchez. But with the support of a committed team, the process has been smoother than expected. "We've implemented new technology and new ways of working which we expected to take months to optimise and perfect," he says. "I have to say that I am now more productive working at home."
Kyocera Document Solution has partnered with The Economist Intelligence Unit to gain a meaningful understanding of the impact of Covid-19 on staff productivity. The report provides organisations with valuable insights of how they can increase productivity in the workplace in a transformed global economy.
This content is produced on behalf of Kyocera Document Solutions by (E) BrandConnect, a commercial arm of The Economist Group. (E) BrandConnect operates separately from the editorial staffs of The Economist and The Economist Intelligence Unit.

While every effort has been taken to verify the accuracy of this information, neither (E) BrandConnect or Hong Kong Information Services Department can accept any responsibility or liability for reliance by any person on this report or any of the information, opinions or conclusions set out in this report.