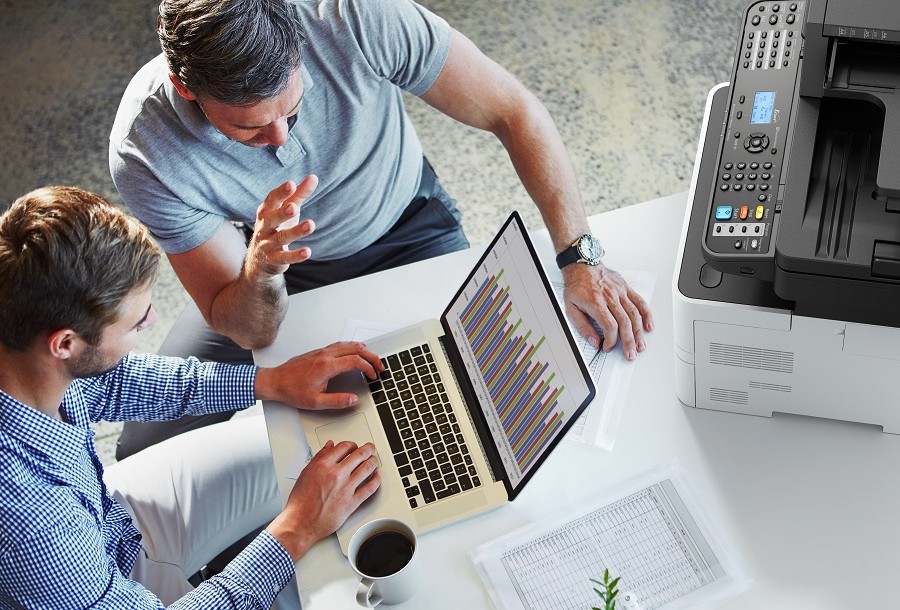 It's only a matter of time before a piece of office equipment either becomes inoperable, too expensive to maintain, or just not flexible enough to meet the needs of the job. As the office or department manager, you know when that time has come - after all, you hear the staff complaints first hand. But how do you convince your stakeholders? That's where this business case for equipment purchase template comes in handy.
Here are the steps you can take to get started.
1. Assess your existing office equipment
We recommend starting the process by assessing your current equipment and operations. Where do you need to change or improve?
Gather feedback from your colleagues.
Rate how effectively the current office equipment meets goals such as speed, efficiency, cost, security and safety standards.
Make a list of the problems encountered or the areas needing improvement.
2. Review company goals and guidelines
How can new office equipment help address the current and future operational requirements of the business? What do you want to achieve?
Does the new office equipment you have in mind support your company's growth targets?
Consider its features, benefits, cost, maintenance and service warranty. Are they aligned with your company's policies and standards?
3. Research new trends and technologies
Do you need new equipment, a lease agreement or a software upgrade? It's worth taking the time to research new trends and technologies - it's a great way to ensure that new equipment choices are future-proof and have the right features to address your needs now and into the future.
4. Look into your company's financial options
Consider how the company will allocate funds for the purchase of the new equipment. Within your company's existing budget, look at options to buy, rent or lease the new equipment. If you've not considered leasing before, it is more common than you'd think. Kyocera, for example, has business printing equipment that is very popular for lease, thanks to the fact that it puts the costs into operating expenses, rather than capital expenditure.
Typical devices you might see leased are the TASKalfa 6053ci, which is popular for medium-to-large businesses, while the TaskAlfa 351ci is a popular leasing option, suited to smaller workgroups.
To decide what is best for your organisation, answer these:
Which option will have less impact on the bottom line, enhance productivity and yield more benefits?
When is the best time to purchase or lease your equipment?
5. Build your business case for the equipment purchase
Now you're ready to draft a business case and present all of the relevant facts to your boss, so that you can help him or her decide on the proposed purchase.
We recommend that you customise the below structure based on your organisation's specific operations, needs and preferences.
A. Title: Proposed equipment name and type
B. Intended Audience: In this section, identify the specific readers of your business case, including your boss or the decision-maker plus any others who can influence the proposed purchase, such as the company's stakeholders and even actual users. Keep in mind that your target audience should enable you to obtain the support and funding needed for the new office equipment.
C. Brief description/Executive Summary: The summary of your proposal needs to provide the relevant information needed by everyone involved in the decision-making process. Do more than just stating the problem or the need for the new office equipment; highlight the benefits and desired results.
For example, if you need a new network printer, cite the specific areas where the existing printer is no longer able to fulfil operational needs (e.g. print capacity, speed, accuracy, user access, security, network adaptability, or maintenance costs).
Explain how the new office equipment can be the solution and provide other desired results - like improved productivity, lower operating costs, enhanced security and better return on investment (ROI).
D. Alternatives: Present all the options you have to address your current need, including the top three pieces of office equipment you have researched.
For every alternative, present details like:
Operating expenses
Maintenance costs
Training
Any risks involved.
Then, explain the reasons why you have selected one specific piece of equipment over the other alternatives.
E. Benefits: What benefits are important for the company? Will the new office equipment provide increased productivity, cost savings, improved security, and better user access and experience?
Highlight benefits that would be important to your intended audience. Also, the benefits need to be realistic and measurable.
Include the return on investment (ROI). The formula for ROI is: ROI = (Benefits – costs) / costs. The 'Benefits' figure can be the amount of savings due to increased efficiency and lower maintenance costs.
F. Recommendations: State your recommendations towards the purchase of the new piece of office equipment. Highlight its features and the benefits for your company. Reiterate the ROI of the equipment in terms of years of service. It would be worth mentioning the brand or provider's reputation in the market and the support they provide during purchase, implementation, and ongoing maintenance.
In conclusion
Your business case is an integral part of making positive changes in your work environment. This business case for equipment purchase template should enable you to convey your thoughts and clearly present the need for a new piece of equipment in your office.
Armed with your business case, your boss will have all the information needed to make an informed financial decision about the purchase - fully understanding the benefits for the company, now and in the future.
Printing is typically the third-highest business expense after rent and payroll, but it's often overlooked or calculated using only the sticker price. Download our Guide to Calculating Total Printing Costs to learn how to correctly assess your device's total cost of ownership and avoid unnecessary expenses.