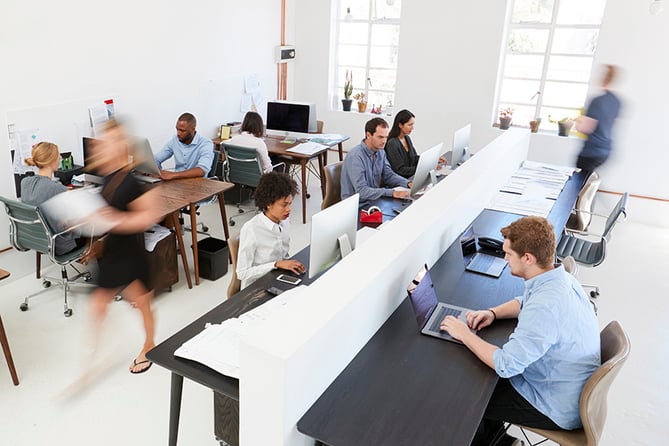 When it comes to innovative office products, it's all about striking the right kind of balance where the innovation is simple and effective enough to enhance the experience and drive productivity in the workplace. Innovative tech products can not only drive efficiencies across the business but also contribute to major cost savings, so we've done the legwork for you and researched the best new innovations for offices.
Another reason to adopt more innovative office products, is that they can make workers more comfortable in their own space, so they can be happier and healthier at work. From innovative office furniture, to futuristic gadgets and everything in between, we've sourced eight sweet office products that should be on your radar.
1. Multiple workstations
Mountie is a super-cool gadget that allows you to easily access and work on multiple devices at once and is an innovative office must-have.
You just use Mountie to clip your tablet or smartphone onto your monitor so your staff can multitask their way up the corporate ladder by viewing multiple screens at once. Forget multiple large monitors, just add on whichever devices you want to so you can clip and go multiple devices, whenever you want.
But will having more monitors really make a difference? Yes, according to a recent survey that found that dual monitors actually increase productivity for those doing text-based tasks by 44%. Those doing spreadsheet-related work actually saw an increase in productivity by 29%.
2. Kyocera ECOSYS Printers
A major objective for Kyocera is to develop products that improve office efficiency, reduce total cost of ownership and are environmentally friendly.
The ECOSYS (environmental, ecology and systems) technology is at the forefront of printing innovation to deliver cost savings whilst benefiting the environment in the process. ECOSYS printers have a patented long-life drum which is separate from the toner container. This eliminates the need for a drum replacement when the toner is depleted and therefore reduces landfill waste.
ECOSYS printers also have one of the lowest cost-per-print because they eliminate the need to continually replace cartridges which carry the highest cost burden for offices in traditional cartridge-based printers. In turn, these printers allow your company to be more environmentally friendly.
The technology that powers this system reduces the total cost of ownership of printers and multifunction devices to save you money while streamlining operations and being kind to the planet.
Find out more about the Kyocera ECOSYS printers here.
3. Workplace headphones
The Beats Solo3 Wireless earphones will quieten any busy office, with smart Apple W1 technology that boasts 40 hours of battery life, five-minute Fast Fuel recharge and easy setup and switching between Apple products.
The unique cushion ear cups are designed to buffer outside noise so your staff can work free of water-cooler banter and the serial office distracter.
4. Ergonomic seating
The Aeron Remastered chair has been reworked since it was first unveiled to the world in 1994 and is renowned as being one of the most acclaimed office chairs on the market.
Office-bound jobs have long been attributed to a number of ongoing health problems, so finding an innovative chair that is ergonomically and anthropometrically designed should be at the heart and soul of all innovative workplaces.
5. Enterprise Content Management
Transitioning from paper-driven processes to digital-only with Enterprise Content Management (ECM) is an innovative yet simple solution to increasing office productivity. ECM captures, stores, analyses and automates business content, and by removing the need for paper documentation, allows for automated business processes that enhance collaboration and productivity.
ECM can benefit every department of your business, from Sales to HR, Accounting and Finance to Procurement. It also allows you to ensure you're compliant for audits, as paper documents can easily be misplaced or destroyed.
For more information on the benefits of ECM, you can read more here.
6. Alexa For Business
Amazon is taking Alexa out of the home and into business, with the release of Alexa For Business in early 2018.
This technology can do all the clever yet simple tasks like booking meetings, managing schedules and reminding you to do 1:1s with staff. It can also pull up reports in meetings and connect remote workers, allowing for greater productivity across the board. No more digging through your drive while your co-workers impatiently wait for you to find that sales report any more!
Like all good tech, there's an emphasis here on voice so you can access databases, directories and calendars all with just the spoken word. It's also reported that Alexa for Business will give users the scope to build apps and skills for calendar management, meeting room scheduling and ordering supplies.
7. An intelligent whiteboard
The SMART kapp 42 Capture Board may look like a regular 42-inch whiteboard, but it's intelligent and connected. In fact, everyone invited and logged into your meeting can see everything you draw on the whiteboard, in real-time, from anywhere in the world.
What's more, it can connect up to 250 people at once, making managing your mobile workforce a breeze.
8. The Cubii Seated Elliptical
One of the greatest challenges of office-based jobs is ensuring that you're moving at regular intervals and not in a seated position all day. However, getting up to exercise and walk around every hour is not always possible when you have a high workload and want to remain productive.
This seated elliptical is a great solution for busy office workers who want to remain active. With minimal interruption to work and a quiet design means there's no noise disruptions.
Rapid changes in the workplace and acceleration in the adoption of digital technologies has fast-tracked the future of work. It's time to act now and prepare your business for the future. Download our Workplaces of the Future ebook to learn more.