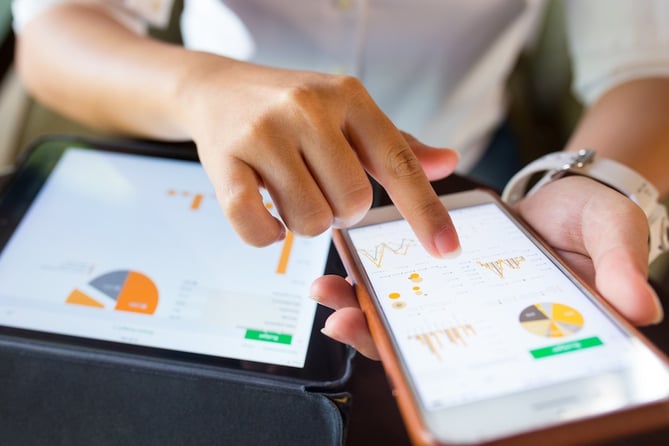 Keeping up with the constant changes to the tech and business landscapes in order to find the best technology for your small business is challenging. Everything is moving at a very fast pace. As a business owner, you need to continuously evolve your business, and adjust to the changes within the business environment. You need to be able to integrate new technologies that would propel your company forward and help you stay ahead of your competition.
According to a recent global IDC research involving 3,210 small to medium enterprises, 39% of the companies agree that active participation in digital technologies will be crucial in surviving the next 3-5 years. The study also pointed out that businesses who adopt digital technologies would grow faster than those that do not.
But how do you know which are the best technologies for small businesses to integrate? What would you need to move your business forward?
To focus on your core business and achieve your company's growth goals, consider integrating the following enabling technologies. You may have already implemented some of them, but which are the best technologies for your small business to boost efficiency and productivity?
Cloud computing
How are you utilising the "cloud"? Are all your important company applications such as email, collaborative tools, mobile solutions and printing, marketing, storage, finance, website, and content in the cloud? This saves you resources to be invested in maintaining an IT infrastructure of servers and applications that need to be updated and upgraded.
The cloud allows you to focus on achieving your growth targets rather than monitoring networks, databases, servers, and applications. Cloud computing also enables you to access all your data and print remotely from anywhere using your mobile device such as a phone or tablet. This increases the productivity of your company in delivering products and services to your customers.
IoT (Internet of Things) security
Security is an ongoing concern for many businesses. With more devices and machines connected to the internet, your company is being exposed to constant security risks.
Do you have a way to monitor all the connected devices in your office, from computers and laptops to printers and mobile phones? Even alarm systems, surveillance cameras and vehicles are now connected to the internet.
That is why protecting your network and data has become a major priority for businesses. It is important to invest in the latest cyber security technologies and upgrades to protect your entire network, covering your physical and digital environments.
Marketing automation
Marketing automation, as the term suggests, automates repetitive marketing tasks like emails, social media, lead capture, and other website actions. It also delivers the necessary analytics data to help you make more informed decisions. The marketing automation software provides valuable information about your customer, including online behavior and buying preferences.
Marketing your products and services online has never been easier! All you need is a subscription to a marketing automation service, and you can develop and implement your campaigns across the different channels.
Chatbot
A chatbot is a computer program that can simulate human conversations, using artificial intelligence and delivered over the internet.
There is a lot of talk about artificial intelligence (AI) programs being used on company websites to provide customer service. This program allows the customer to converse with the chatbot in real-time with immediate auditory or text responses.
By programming all possible questions and answers, the chatbot becomes a consistent and effective way to deliver relevant information about products and services directly to customers. Due to recent developments in AI technology, such as more natural human conversations, chatbots are becoming more and more popular on company websites.
Collaborative tools
How do you communicate within your business? The use of smartphones, tablets, and collaborative applications will help keep you and your team members up to date with important information in real-time.
Since email still plays an important role in business communication, you may use applications such as Microsoft Office 365 for business which includes Microsoft Teams which is a powerful collaborative tool that also uses Skype for business. Microsoft Teams allows data sharing and editing in real time while having an online meeting your team members. There are other collaborative tools out there such as Google Hangouts, Facebook Workplace, Slack and Spark by Cisco Systems.
Mobile payment and print solutions
Do you have mobile payment solutions integrated into your business? There are several mobile payment applications such as Paypal, Apple pay, Android pay, and Samsung pay. These provide easier payment options for your products and services as required.
Mobile printing is another technology you can consider for your business. Your team deals with soft copies through email and file-sharing, but mobile printing can take things a step further. This means you and your team can print from anywhere, access the company documents and files through the Cloud, and securely print documents on-site for a customer or in the office through a multifunction printer (MFP) connected to your cloud network.
In conclusion…
There are a number of technologies that you can consider integrating into your business – from cloud computing, IoT security and marketing automation to chatbots, collaborative tools and mobile solutions. Each one can help your company move forward, rise above the competition, and ensure business success for years to come.
So, how do you figure out the best technology for your small business? We suggest starting with a full review of your existing infrastructure. This will enable you to determine what technologies are currently working, what needs to be upgraded, and what needs to be replaced.
Book a site audit today, and we can help you identify the best technologies to enhance your systems and workflows.
Learn how to choose the right printer and device infrastructure to support productivity and growth in hybrid workplaces can be challenging. Download our Comprehensive Guide to Digital Workplaces to learn how to equip your organisation for collaboration, mobility and productivity in the new era of work.