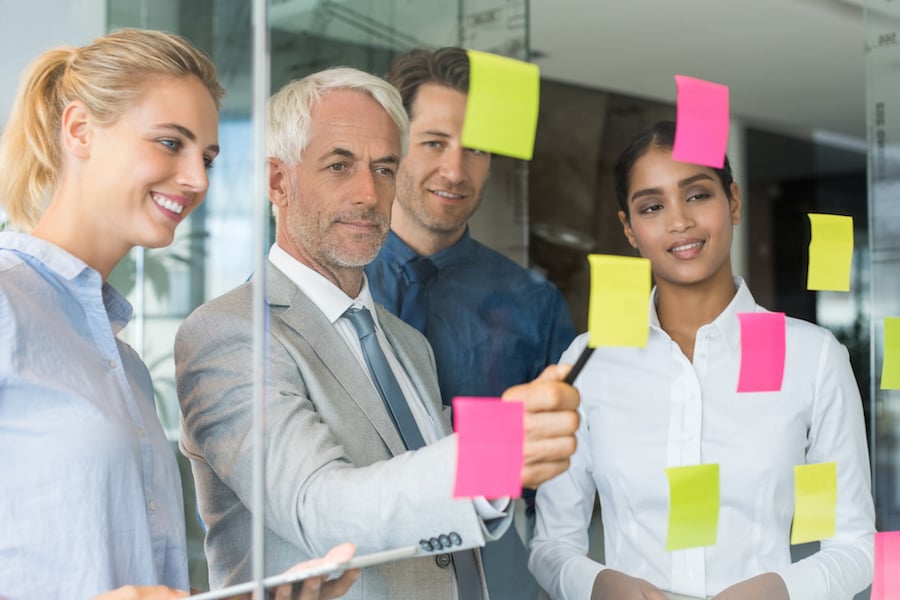 77 percent of CEOs reported that their digital transformation plans were accelerated in 2020. Hybrid workplaces, remote working and digital-first strategies were pushed to the fore as businesses were faced with the choice to adapt or fall behind.
However, while many businesses have successfully kept operating during a year of unforeseen events, they must now implement digital transformation strategies that promote long-term growth and resilience through hybrid working models.
While this obviously includes implementing the right technologies and processes, the key to hybrid success is to also bring your align your digital transformation for people.
People play a big part in the successful transformation of your business. One of the biggest challenges faced when implementing digital transformation for people is employee resistance. Employees want to understand why change needs to happen, be part of the journey, and ensure they experience the resulting benefits (such as increased work productivity, flexibility and efficiency). This is more true than ever during periods of rapid change and development, when workers may face increased stress and anxiety in the workplace.
So, how can you adjust your business environment and culture to deliver a successful digital transformation strategy? In this post we will outline the ways in which you can better align people, processes and technology to enable ongoing business growth and drive a successful hybrid work environment.
Communicate a clear vision
It all starts with a clear understanding of the overall company vision – for you and your employees - particularly with regards to how your digital transformation efforts will support your hybrid workforce.
What do you want to achieve?
What needs to change or improve within the organisation?
How will these new technologies or innovations drive your vision?
How can you inspire trust and support for the initiative?
These are some of the questions that need to be addressed so you have a clear and inspiring vision for your business. Try to break down the strategic vision and understand how each department and employee can contribute and be part of this journey. Remember, people will be more engaged if they feel that there is purpose or meaning in their work.
The next step is to communicate this vision through all internal channels – company conferences, presentations, intranet and email.
Align digital transformation for people, processes and technology
"For the next 10 years at least, work will still revolve around human beings." (Gartner)
It's important to understand the current business environment, specifically how employees use and interact with existing technologies, to decide what they need to be more effective at work. Any changes or improvements in the workplace should make people more comfortable, productive and happier at their jobs.
Before investing in a new technology or device, make sure it integrates seamlessly with the existing systems and processes you currently use. This will make it easier for staff members to learn the new technology and apply it in their daily work lives, while avoiding unnecessary delays.
Provide easy access to information
Easy and secure access to critical business information is probably the most important aspect of your digital transformation strategy and hybrid workplace. Employees need to have quick access to data and organised storage of files and other documents to effectively perform their daily tasks and collaborate with their colleagues.
An enterprise content management (ECM) solution is a worthwhile investment to achieve this goal, as it will allow you to share, utilise and manage all of your organisation's data from multiple departments in a centralised location. Metadata can then help to cross-reference information and draw inferences that would otherwise have not been possible.
Enable flexible working
Flexible working is the hallmark of hybrid workplaces. Employees must have the tools they need to always be connected to the business, with everything accessible via a laptop or mobile. As mentioned above, investing in a secure and stable cloud storage provider is a great place to start.
For added security, you can implement a virtual private network (VPN) for mobile workers to access the company network. That way, you can ensure that your critical business data is secure.
Enhance collaboration
With a mix of on-site and remote workers, as well as people working across different time zones, it can be difficult to coordinate with a team or manage a project. Enhancing collaboration within teams by breaking down silos is a sure-fire way to boost productivity within your business.
Collaboration tools like Slack and Basecamp, or video conferencing tools like Microsoft Teams, encourage employees to communicate more regularly with each other, coordinate tasks and report on ongoing results. These tools can help you and your management team to monitor the progress and performance of projects and key objectives.
Once you've implemented these collaboration tools and established your hybrid working model, it will be a lot easier to align your people, processes and technology. This alignment should not only boost workplace productivity and efficiency but also build the environment that you need to adapt and succeed in the digital economy.
Building a resilient and productive hybrid work environment requires the right hardware, software and processes. Download our Guide to Hybrid Workplace Strategy for a step-by-step strategy for implementing an effective hybrid work model that equips your employees to work anywhere, any time.