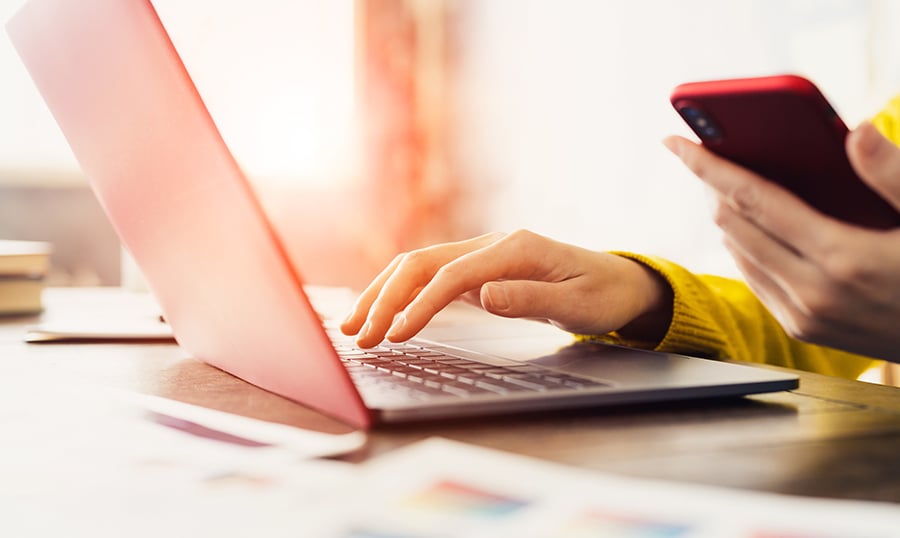 As hybrid working models have risen in popularity, so has demand for the technologies that drive them. Artificial intelligence, the Internet of Things and bring-your-own-device trends, cloud computing and faster connectivity through 5G and WiFi 6 are some of the technologies which have grown in 2020 and 2021. Here's why you should be adopting these emerging technology trends in your business, and what to expect from them as hybrid work environments continue to thrive in 2022 and beyond.
1. Artificial intelligence
Artificial intelligence (AI) has been an emerging technology trend in the business landscape for a number of years. But with the increased adoption of new technologies to manage remote workers and hybrid workplaces, AI's ever-expanding capabilities have really come to the fore. Businesses are using AI for customer service, such as support and assistance, and advanced personalisation. Real-time data allows organisations to respond instantly to changes in their customers' behaviours, even predicting what they will do next. In fact, customer experience is the leading driver of AI adoption by businesses, with early adopters reporting a 25 percent improvement, as well as increased innovation, competitiveness, profit margins and positive employee experience.
Whether it's automated document processing, chatbots that remember your customers' information or intelligent call routing, there are a multitude of ways that AI can enhance your hybrid workplace, and many more on the horizon. Here are 5 ways that AI is already revolutionising document management in hybrid workspaces.
2. Bring your own device (BYOD)
We're no longer talking solely about personal phones and tablets in the workplace. As the Internet of Things has grown, so have the possible products that employees can connect with at work. Smart watches, fitness bands, virtual home assistants, virtual reality headsets and smart earbuds, to name a few, with drones and robots on the way, according to Gartner.
Your business data is accessible by a growing number of internet-connected devices, with varying degrees of security. Having a sturdy BYOD policy at work is essential, and will allow your employees to greatly augment their workplace experience, particularly when logging in remotely, enhancing productivity, efficiency and job satisfaction.
3. Cloud technology
There's no doubt that cloud adoption has seen a rapid acceleration in 2020. The cloud computing market is now predicted to grow by 17.5 percent annually for the next five years, rising from USD $371.4 billion in 2020 to USD $832.1 billion by 2025. Furthermore, a significant number of businesses use multiple cloud services - 55 percent according to a 2020 survey by IDG - contributing to what Gartner calls the 'new work nucleus', a collection of software-as-a-service (SaaS) tools that are combined to create a digital office environment supporting employee productivity, communication and collaboration.
As more businesses opt for cloud services thanks to their scalability, accessibility and cost-effectiveness, we will hopefully see providers upgrade their technology to include new mobility, artificial intelligence and other features to support hybrid working.
4. 5G and WiFi 6
Our last emerging technology trend for businesses is 5G and WiFi 6. While they have been on the tech radar for a while, the emergence of hybrid workforces has only highlighted our need for fast, reliable internet connections. Remote working, cloud computing, video conferencing - all rely on the speed of our network. Forbes predicts that the combination of 5G and WiFi 6 could create the perfect home and office connected environment that hybrid workplaces are built on. 5G is expected to be 100x faster than 4g, while WiFI 6 could boost speeds by three times that of WiFi 5.
In good news for hybrid workplaces, COVID-19 appears to have increased the deployment of these new technologies, rather than slow them down. If you're looking at investing in new mobile or wifi-connected technology in the near future, then remember to ensure that it is 5G and WiFi 6-compatible in order to future-proof with your operations.
Rapid changes in the workplace and acceleration in the adoption of digital technologies has fast-tracked the future of work. It's time to act now and prepare your business for the future. Download our Workplaces of the Future ebook to learn more.