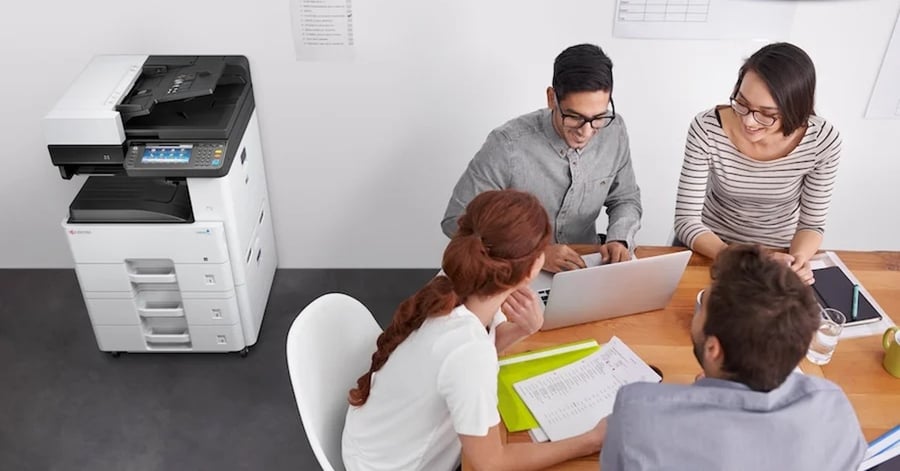 The average office worker uses about 50 kg of paper every year. That's almost 10,000 sheets of A4 paper. We can safely assume that the majority of that paper starts inside the office printer.
But how can you make sure that you're using the best business printer for your needs? There are a variety of options available, and you could be paying more for features that your company doesn't need.
To start your investigation, you'll need to understand the specifics of what is being printed at your office. This also includes how much is being printed, whether you need extra features and the ongoing cost of consumables, such as printer toner.
Choosing the best business printer can be quick and easy. With a little help from us and some evaluation from you, we'll quickly figure out the best printer for your office.
Tip 1: Assess your printing needs first
Don't make the mistake of delving into a catalogue or online store before you answer some simple questions. You may be able to answer these questions yourself, or you may need to talk to a range of people in your workplace to figure out answers that are an accurate reflection of the office's needs.
What does the office currently need from a printer?
It's important to consider your primary business function and how the printer supports that service.
If you work in an architectural office, you'll probably be looking at large-format and 3D printers. Alternatively, maybe you manage a small graphic design business? Then you'll want accurate colour printing for reviewing print designs. This step can immediately remove a variety of printer options from the list as they will simply not be suitable.
Will these needs change in the future? If yes, how so?
Think about how your organisation may grow and change in the future and how this might affect your printing needs. Decide if the new machine you are researching right now needs to fit these requirements, or if you'll upgrade in the future.
Once you've got clear answers to these first two questions, it will be easier to decide on what features your new printer needs to have and how much you're prepared to spend.
Tip 2: Think about a multifunction printer
If your printing needs analysis has shown that your office requires a machine that scans or faxes, a multifunction device might be suitable. Multifunction printers come in laser models and can include either a flatbed or sheetfed scanner (good for high volumes of document scanning). Most models will also include a fax feature.
A multifunction printer with a scanner is an excellent choice if you need to scan signed agreements, photographs, handwritten notes or you have any photocopying needs.
Tip 3: Consider paper handling requirements
Generally, printers will easily handle paper up to A4 size. If you need to print at A3, you will need to look at the printer's specifications. Also, consider if you need to print on thicker (higher gsm) paper, labels or envelopes and if you require additional add on modular for different paper handling requirements.
In a busy office that prints in high volumes, no one has the time to be topping up the printer's paper supplies continually, so look out for a machine with the appropriate paper handling capacity.
Double-sided or duplex printing is a helpful printer feature which can save your office time and money. Duplex printing can save your office between 30 - 50% of paper costs and lower your storage needs. Look for a model that can set up automatic duplex printing, as manual double-sided printing can be onerous and time-consuming. Duplex printing can also reduce costs by using less paper.
Tip 4: Research speed, resolution and colour claims
The best way to compare printers' speeds, resolutions and colour claims is to delve into the specifications. A good printer provider's website will allow you to compare specifications side by side making it as easy as possible to get a good overview. Here you will also be able to check out details like security features, warranty information and print out time.
Be on the lookout for printers made to international standards such as ISO 9001 quality standard and ISO 14001 environmental standard. The best business printers are also likely to have won awards for reliable design or being environmentally friendly.
Tip 5: Weigh up network printing
Network or mobile-friendly printers are hooked up to a group of computers all at the same time. This connection no longer needs to be physical; the printers could be connected wirelessly (think printing straight from a mobile phone!). A networked printer is the best option to efficiently meet the needs of multiple employees in an office.
A drawback of a network printer is that multiple users trying to access the printer at once can delay printing projects. It might be worth considering more than one printer if your office has a high volume of printing.
Tip 6: Think about the long term costs
Buying a business printer isn't a one-off cost; you will also need to consider the ongoing expenses of toner, paper and servicing. Remember it might be worth buying a more expensive printer that fits your needs with lower ongoing costs.
Consider a printer technology that incorporates long-life consumables and one of the lowest costs per print, for the greatest value for money.
Tip 7: Save dollars and trees with energy-saving features
Printer manufacturers have made great strides in reducing the electricity consumption of their products.
Kyocera printers have optimal power control and are specially equipped to save power during standby phases, low power mode and sleep mode. Kyocera's ECOSYS printers provide a printing solution that incorporates long-life consumables, meaning less waste is making it into landfill.
Tip 8: Choose your level of service correctly
A managed print services (MPS) program is the ideal solution for businesses that routinely rely on printing and have widespread printing needs. Some MPS providers take a more dynamic role rather than solely delivering consumables and organising repair or replacement when faults occur. A good MPS provider may also proactively monitor your printing so they can progressively manage the machines installed in your business, making for a more efficient and economical print environment.
Printing is typically the third-highest business expense after rent and payroll, but it's often overlooked or calculated using only the sticker price. Download our Guide to Calculating Total Printing Costs to learn how to correctly assess your device's total cost of ownership and avoid unnecessary expenses.