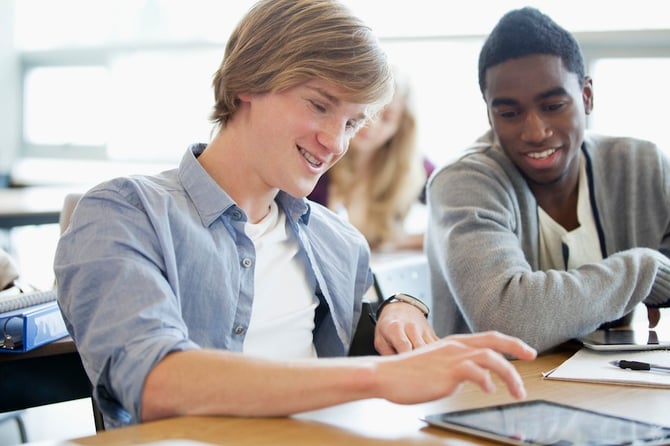 For IT and operational managers in education, ensuring that systems and workflows are in place for best-practice document management for schools can prove to be an ongoing challenge, as this encompasses logistics, waste resources, budgets and everything in between - not to mention the school's printing.
If printing isn't managed efficiently, a school can experience an increase in overall paper and print wastage, lower productivity through delayed/antiquated systems and equipment, and an overall increase in costs through a poorly structured print environment. This is why printing is so important to get right - and why many schools turn to managed print services to help.
A government primary school in Victoria has experienced huge gains in efficiency and productivity after implementing managed print services at the school. We got the lowdown from the leading teacher on exactly how he drove this initiative to implement the best document management for the school.
Q: Can you tell us a little bit about your role and what your day to day is like?
I oversee the Information and Technologies systems at my school to ensure students and staff have access to what they need to get the job done. Printing clearly falls under this umbrella and my role involves making sure that students can print from mobile Bring Your Own devices, Windows laptops and teachers can print easily as well. I review our printing usage each month and provision limits for our users. It can be a hectic role where even a small amount of downtime can have a big impact.
Q: Why do you think this is an important initiative?
It's important because efficiency is key in any organisation as well as reducing overall paper wastage.
Kyocera multifunction devices and smaller duplex printers, in conjunction with PaperCut have been brilliant. One major difference is being able to hold print jobs and having the ability to collect them when time permits. It has reduced wasteful printing and leftover incorrect scraps and increased security so that only approved jobs actually print.
Students can print in large numbers and collect their print jobs in one single collection as opposed to sending student after student to collect their work. Overall, simplicity and efficiency have been the biggest outcomes from us reassessing our printing processes and workflows.
Q: How did you go about creating the workflow for document management?
1. We looked for a complete document management solution for schools that incorporated scanning, photocopying, and printing. We wanted to deliver on what staff had before, but also improve on it in terms of having improved cost management, tracking, oversight and reducing wastage.
2. We worked with our school technician and KYOCERA to quote and prepare the purchase of a solution that met our needs.
3. We reviewed the quote, discussed it with staff and looked carefully at the numbers of devices and placement to ensure staff would be able to readily access them. We didn't want underutilised equipment but also wanted to ensure things were positioned for convenience.
4. We had the devices and software installed, and worked with staff to trial usage limits because we were uncertain as to what would be the right amount. After the trial period, we devised what limits would be set for staff and students across the school.
5. We allocated swipe cards for all staff members to print, along with class cards as well. We decided to go with swipe cards rather than using a more traditional pin and code. This has made a huge difference in terms of speed in collecting printing and security of printing. Students are easily able to collect printing for their entire class if needed.
Q: Since you implemented managed print services and new machines, what have you noticed?
For staff there's definitely been an increase in productivity in terms of providing more multifunction devices (MFDs) - from two to four - and by providing these copiers in strategic locations around the school.
Beforehand, multiple staff members wanted to use devices at the same time. Now, we have a single print queue of our four MFDs and staff are able to pick up printing at any location. This has increased convenience, particularly when people might be printing a larger job at one device and it is busy. Additionally, we have provided some smaller duplex printers for classrooms in more remote locations.
As for students, there's been a noticeable improvement in efficiency in terms of access. Students can now print from iPads, as part of our Bring Your Own Tablet program, so we're able to facilitate that printing from across the school. From their classrooms, students can print in large numbers and collect their print jobs in one single collection as opposed to sending student after student to collect their work.
Also, traditionally they used Windows based machines which could only print black and white, but now they can print colour or black and white all with it being tracked, so we can closely monitor it to ensure it's not excessive.
Q: What are your best tips for other schools who want to implement MPS but have no clue where to start?
Think carefully about staff and what they need - review what's currently being used and ask what's going well? What need is it not fulfilling? Make sure you have a clear scope of what you want your solution to be.
When you do go out to look for a replacement system, you need to think about all the different parts of the equation - devices, accessibility in terms of locations, potentially a management tool like PaperCut to oversee the system and make sure it will all work properly together.
Visit other schools who have implemented something and have a look at their system - we liaised with other schools through our technician, and talking to other schools helped us a lot in making our decision.
Managed Print Services is a flexible and scalable print solution that can meet the changing needs of your organisation in the new era of work. To learn how you can reduce your costs, minimise risk, improve your environmental footprint and gain greater control of your print environment, download our Managed Print Services Fact Sheet.