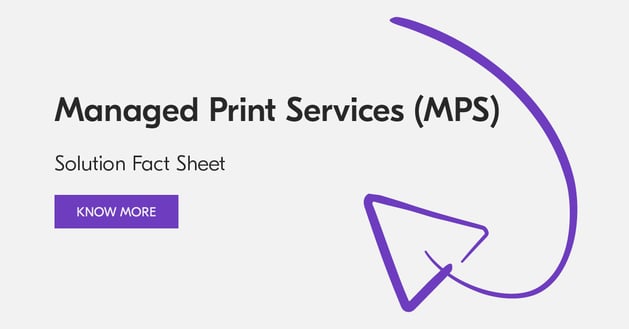 Managed Print Services (MPS) is a sound choice for businesses who are looking to streamline their print workflows and get a handle on their printing costs.
But getting it right can be difficult - that's why engaging a reputable and experienced provider for MPS implementation is integral to reaping the benefits, and making sure there is minimal disruption to the business.
This handy infographic explains the Managed Print Services implementation plan you can expect to take when choosing a tailored Kyocera solution. And if you keep reading, we'll explain why we do it this way (and you should too).

1. Start at the beginning
The very first step in our Managed Print Services implementation plan involves a current analysis and office audit of the business's current print and document handling processes. An experienced MPS provider will spend time familiarising themselves with the organisation to audit your existing workflow and identify opportunities for process improvement.
This is integral to the seamless implementation process; the better the organisation is understood, the better a provider can work to ensure minimal disruption when it comes time to implementing it.
2. Look to the end
At this step of the implementation process you need to keep communication lines open and discuss what your expectations are. For example, it might be to become more sustainable and print less - and, in the future, to go fully digital.
Be clear about your expectations and end-goals to ensure the solution is specifically catered to you - and don't forget to put some enquire about the security of your data.
3. Know where you're going
At this stage you should be provided with a full understanding of the solution roadmap. This includes an implementation schedule and an overview of the software and hardware that will be needed, as well as the full execution plan.
This phase should also highlight any risks or downtime that might be experienced during implementation so you can set expectations with relevant stakeholders.
4. Prepare for launch
A smart provider will do some testing before rolling MPS out across the organisation. This phase is one of the most important elements in the Managed Print Services implementation plan to ensure the change occurs with minimal disruption to the day-to-day operations of the business.
Talk to them about this phase and what it entails - including how long they test for.
5. Bring stakeholders on the journey
Communication across all stakeholders and relevant departments is key to a seamless implementation phase.
An experienced MPS provider should assist in the change communication process to ensure staff and end users are fully educated on the new solution and they feel comfortable using it.
6. Continue the commitment
Ongoing support post-execution is vital to a successful and seamless MPS integration for any company.
A great provider will ensure they work with you well after the implementation has occurred to provide you with ongoing support that will scale with your business as it grows.
Where can a Managed Print Service implementation plan go wrong?
Some businesses have a complex structure and already use various software on a daily basis. In this instance you need to ensure there's a customised approach to integrating your managed print services into other software applications you might be running or using as part of your everyday business operations.
This is what separates the good providers from the great providers.
Managed Print Services is a flexible and scalable print solution that can meet the changing needs of your organisation in the new era of work. To learn how you can reduce your costs, minimise risk, improve your environmental footprint and gain greater control of your print environment, download our Managed Print Services Fact Sheet.