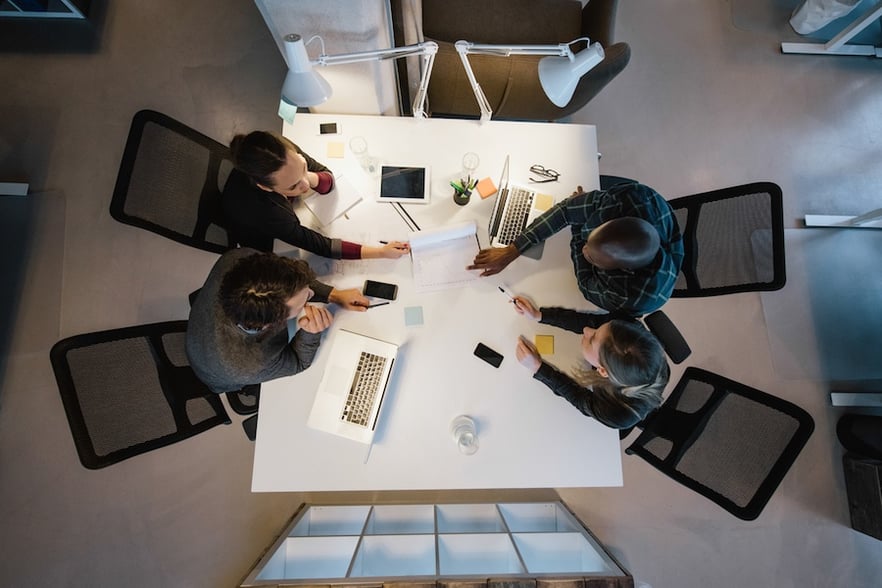 Efficiency in your office is about maximising the use of your current systems and resources. It focuses on maintaining business profitability by streamlining processes, boosting workplace productivity, and reducing costs. An efficient business is able to increase outputs, while minimising waste and removing unnecessary expenses.
Are you looking to improve efficiency in your office? In this post, we'll provide you with some practical business efficiency tips on how you can review and streamline current operations. You'll be able to see where the business needs to improve and make big efficiency gains.
1. Enhance workplace productivity
Productivity and efficiency go hand in hand. Productivity focuses on getting things done; while efficiency looks at producing results with the use of minimal resources. Both are important. But working together, they can take your business to the next level.
Start with an audit of processes
When was the last time you reviewed your current business operations? To improve productivity and efficiency, we suggest starting with an audit of your workflow and processes. Conducting a proper audit can help you recognize inefficiencies within your systems and procedures, and identify areas where you can enhance productivity, reduce costs, and minimise waste.
Keep staff happy and motivated
Improving productivity in the workplace comes down to one thing - keeping your staff happy and motivated. This way, they can perform their best, and deliver exceptional results, making this business efficiency tip fundamental to organisational success.
How do you keep your employees happy and motivated? By looking at improving every aspect of your business – from workspaces and lighting to office culture and workplace technologies.
Streamline processes
Long-winded procedures can slow you down, creating a lot of wasted time (and frustrated staff). Auditing your office procedures allows you to address any issues that your employees may be having during the course of their work.
Take the time to speak to all departments and do some thorough research before you start making any changes. Also, creating an office efficiency and productivity checklist can make your job easier as you work your way through each department or team.
2. Go green
Implementing green office practices has a significant impact on your bottom line. It creates a sustainable workplace that has been proven to drive down costs and improve efficiency.
You can start by reviewing your company's current electricity usage, and identify areas where you can reduce energy consumption. One simple yet effective way is to check your machines and devices. Are they energy efficient? Do they have a blue Energy Star sticker? This label shows that the device meets international standards for energy efficiency.
Some other quick and easy ways to develop an eco-friendly office include turning electronic devices off at the end of the day or setting them to sleep mode, reducing your paper consumption, and controlling printer consumable usage.
3. Invest in reliable and cost-effective devices
How much time and money do you spend on maintaining your devices? In the long run, investing in reliable systems and technologies can significantly reduce maintenance and service costs.
Conduct a thorough audit of your workplace devices
Outdated machines can cause office costs to increase. This is due to the increased downtime from breakdowns and unscheduled repairs. So it's worthwhile to assess all your devices, have them serviced regularly, and replace old models with newer ones fitted with the latest technologies.
Monitor your printers and multi-function devices (MFDs)
As you know, printing costs are the third highest expense to the business, after staff salaries and office rent. So, take the time to regularly review your print operations - from hardware and networks to power consumption and consumables. Invest in reliable, cost-effective and energy efficient printers and MFDs. This will reap massive efficiency benefits for the business moving forward.
Do you have a way to track and regulate printing usage and costs? If not, you should consider working with a provider like KYOCERA that can grant you complete visibility and control over your print operations.
In conclusion...
So, there you have it. Improving workplace productivity, implementing green office practices, and investing in cost-effective devices are 3 ways that can drive massive efficiency gains for your company using business efficiency tips.
These initiatives can take some time and effort, but the end result will see your business performing at the highest levels, all while minimising costs and environmental impact.
Are business silos holding your organisation back from maximum agility and productivity? Download our Breaking Down Silos ebook to learn how to overcome collaboration challenges and accelerate business growth in your company today.