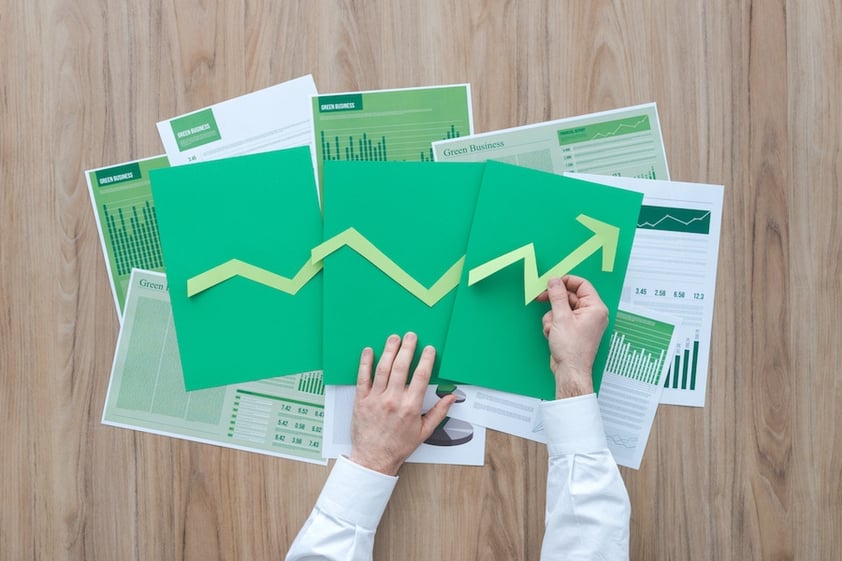 Turning your office into an environmentally friendly and efficient work environment doesn't have to be a daunting task. The team at KYOCERA can help you identify the areas of inefficiencies in your document workflows, and recommend a tailored solution with our sustainable printers.
We've developed the ECOSYS technology to bring leading-edge innovation into your workplace – reducing printing costs and streamlining processes, while minimising your impact on the environment.
What is ECOSYS?
KYOCERA's ECOSYS (Economy, Ecology and Systems) is a cartridge-free printer technology introduced in 1992. This award-winning technology reduces the total cost of ownership of sustainable printers and multifunction devices (MFPs), but importantly, also minimises environmental impact and helps to streamline operations.
ECOSYS printers include a long-life image system, capable of printing thousands of pages. This eliminates the need to replace the print drum when the toner is depleted, resulting in a lower cost of consumables over the life of machines, and therefore a significant reduction on disposable waste.
Reducing the total cost of ownership (TCO)
When the toner runs out in traditional printers, you normally need to replace the whole cartridge, which includes the drum and toner. Sustainable printers like Kyocera's ECOSYS, on the other hand, have the drum separate from the toner container. So, you only need to replace the toner when needed. On some KYOCERA models, the print drum can deliver up to 600,000 pages without the need of replacement.
Reducing the number of cartridge replacements means you no longer need to unnecessarily spend on consumables. This greatly reduces your operating costs, and brings down the Total Cost of Ownership (TCO). Such long-life technology enables you to limit consumable expense, reduce CO2 emissions, and save on energy.
South West Alliance of Rural Health (SWARH) experienced significant cost savings upon implementing the KYOCERA solution. By conducting an audit of all their sites, the KYOCERA team was able to help SWARH identify the areas where they could save on printing costs. According to Dennis O'Malley, Contract Manager, "A big advantage of the KYOCERA machines is the drums which have a greater life span than other vendors and that's what leads to the cost savings."
Dennis pointed out that the long-life drum technology produced less waste and environmental cost. It also reduced service calls and maintenance costs.
"ECOSYS makes KYOCERA printers up to 60 per cent less expensive to run than competitive products."
Minimising the environmental impact with sustainable printers
Helping the environment is one of the most important goals of a modern business. Reassessing your printing machines and devices can help to improve your overall impact on the environment.
One of KYOCERA's main objectives is to create and develop products that are kind to the environment. Since ECOSYS printers eliminate the need to constantly replace whole cartridges, this results in a significant reduction in landfill waste.
It was our innovation in sustainability that got us working with another important client, ComfortDelgro Cabcharge (CDC).
The long-life drum and ECOSYS technology delivered measurable results for CDC, including less waste and environmental cost, plus a 40% reduction on their total monthly printing and copying expenses.
"It was like a breath of fresh air dealing with Kyocera with their 'can do' attitude. From the outset they listened and understood us." - John Mouawad, IT Manager, ComfortDelGro Cabcharge
In Summary
KYOCERA's ECOSYS technology makes perfect business sense. It can deliver significant cost savings and streamline operations, while minimising your impact on the environment. With its durable print drum, you can reduce consumable expenses and landfill waste over the life of your printers.
Managed Print Services is a flexible and scalable print solution that can meet the changing needs of your organisation in the new era of work. To learn how you can reduce your costs, minimise risk, improve your environmental footprint and gain greater control of your print environment, download our Managed Print Services Fact Sheet.