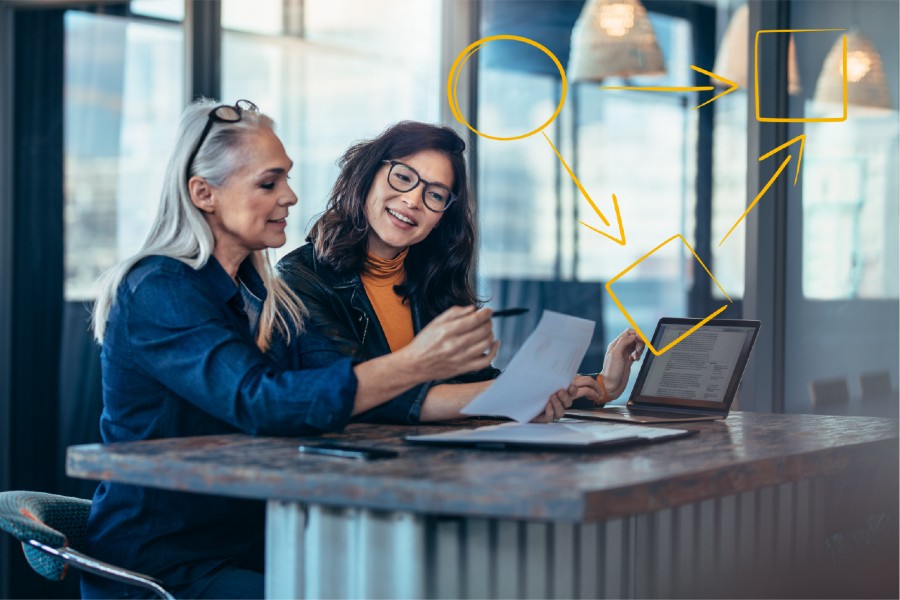 Reducing printing, the costs associated with it and other waste generated by your business can have an immediate and significant impact on the environment and your bottom line. Along these same lines, reducing your small business's risk profile with a smart approach to printing will also have a positive effect.
While printing is essential to most small businesses, the way your business approaches printing will affect costs, how much waste is produced and the security risks you face. In turn, your approach will also affect workflow, productivity and, in the end, your return on investment.
Every size and type of business carries with it a series of security risks, including those related to printing. Unlike their large counterparts, small businesses do not have vast resources or budgets. Because of this, while they face many similar risks to larger corporations, small businesses are generally more vulnerable. Additionally, it is often smaller businesses, without the budget or staff resources available to handle a crisis, that will flounder in a developing business emergency. This is why it's of paramount importance that small businesses continually and consistently work on risk mitigation.
Managed Print Services is a smart way to reduce printing costs and secure your business against many common risks. In this post, we'll be exploring Managed Print Services benefits, including reducing small business costs and support business security.
What are Managed Print Services (MPS)?
Managed print services are offered by an external provider to manage and optimise your business's document printing. Generally, your MPS provider will assess the company's needs, decide on the hardware required, what service will be needed and how the whole process can be optimised in a way that reduces printing costs and maximises security. MPS usually also track the hardware installed to ensure a constant cycle of feedback is being used to improve the service. This includes regularly scheduled maintenance to keep your machines running at their best.
Reducing waste with MPS
Smart, savvy and individualised MPS can give you that 'big business feeling' without extensive cost or investment. In small businesses, where every second counts and everyone has to chip in, MPS is a smart way to free up staff resources without the burden of hiring more employees.
Another benefit of Managed Print Services is to also give your business the ability to track down where excessive waste is occurring, whether it be inefficient toner use, single-sided printing where double-sided makes more sense or stacks of paper being wasted when a poor print job has occurred. All of this waste can be tracked, monitored and stopped by a good MPS, resulting in reduced waste and printing costs.
MPS helps to measure what is working well and plan for the future. Automated consumable replenishment and meter reading can help make informed decisions about servicing, repairs, topping up toner and even streamlining your printing hardware. This future planning reduces more waste and saves your small business more money.
Reducing risk with MPS
While networked printers and multi-function devices (MFDs) increase productivity, reduce costs and streamline your small business's operations, they also open the doors to security risks.
Think about the confidential and important information that go through your company's printers and MFDs on a regular basis. It's a little scary to think about all of this data falling into unauthorised hands, but that's the reality of an unsecured printing network.
Old and outdated printers, MFDs and other devices in your fleet are the most vulnerable to attack. MPS can ensure you're using only the best and latest equipment to protect your business from risk.
While the cloud is excellent for efficiency and productivity, in terms of printing it does open up an increased risk of hacking. MPS monitors what's happening in your print network, applying security-relevant updates and evaluating potential security weaknesses.
Like cloud printing, mobile or remote printing has also revolutionised printing efficiencies. The ability to print from anywhere, from any smart device is productivity gold, but also another opportunity for calculating hackers to attack your business. An MPS provider can curb this risk by helping you to implement the right software and user guidelines (like always using a secure VPN) for remote printing.
Inadequate access control is another area printing is putting your small business at risk. Managed Print Services can benefit you by implementing a secure authentication process like using an access card or PIN to print.
Long term, unmanaged print services are costing your small business, whether it's through print waste or opening your company up to security risks. However, implementing an MPS solution can provide you with a carefully managed and optimised print fleet, reducing your printing costs and mitigating security risks.
But before you can achieve these benefits, you need to choose the right MPS provider that can tailor a solution to address your small business's specific printing and security requirements.
Managed Print Services is a flexible and scalable print solution that can meet the changing needs of your organisation in the new era of work. To learn how you can reduce your costs, minimise risk, improve your environmental footprint and gain greater control of your print environment, download our Managed Print Services Fact Sheet.